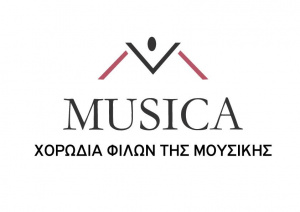 The "Musica – Mixed Choir of Friends of Music" was founded in 2013 and is aimed at adults who are distinguished by their special love for choir singing. The music ensemble has around 100 members selected after auditioning and attending three-hour weekly classes at the Athens Concert Hall. 
Since October 2016, the musical direction and teaching of the choir has been assigned to conductor Dimitris Bouzanis,who quickly succeeded so that the Choir can respond to works of high technical and artistic requirements.
Musica performs in concert halls and cultural centres as well as participates in choir events and festivals. Its rich repertoire includes works of western vocal music, from the Middle-Ages and Renaissance to the modern era, works of Jazz, Spirituals, Musicals, Pop, works of global tradition, works of vocal music by Greek composers, etc. The Choir has repeatedly performed in the Athens Concert Hall, the Stavros Niarchos Cultural Foundation, the Archeological Museum of Athens, the Chiesa di Ognissanti in Florence, the 3rd Spring Choir Festival of Thessaloniki 2017, the Athens Conservatory etc. Its biggest to date performance was its participation in Joseph Haydn's Oratorio "Creation", which was presented in April 2019 at the Athens Concert Hall, in collaboration with the largest choral ensemble in England "The Really Big Chorus" and the Philharmonic Orchestra of Athens, under the musical direction of Brian Kay.